Where is the Cheapest Places to Live In USA?
Living in one of the cities listed below might be quite beneficial regarding your finances. Are you in search of the cheapest places to live in the USA? These are the cities with the lowest cost of living in the US measured by the average gross rent and yearly housing expenditures for homeowners who are paying their mortgages in each region.
Many people dream of moving to the United States, yet in some areas, the cost of living might be expensive. There are undiscovered treasures all around the nation where you can live without sacrificing quality.
Let us begin with this trip to see where in the USA it is most affordable to live. America is home to a variety of attractive locations, each with its own special attractions for potential inhabitants, ranging from its thriving cities to its peaceful seaside towns.
It is more important to evaluate a location's affordability and attractiveness when deciding where to live in the United States, especially with housing and living prices rapidly increasing.
Where is the Cheapest Places to Live In USA?
The cost of living varies substantially across the USA because of its size. Some states are exceedingly costly to live in, especially California and the northeastern states. States in the Midwest and the South, for example, are quite inexpensive.
Young people might be asking where they might settle down without paying a fortune as inflation drives up living costs in the USA and many other nations.
Fortunately, there are several locations in the USA that are relatively inexpensive to visit and reside in.
1. Mississippi
The least expensive state to live in is Mississippi, according to this ranking.
The housing expenses are the lowest of any of the listed states, and they consistently rank considerably below the national average in every other measure.
Hattiesburg is the Mississippi metropolitan region with the lowest median rent, topping in at $614 per month. However, the state's $46,511 average annual salary is the lowest of any on this list.
2. Hickory, North Carolina
The family-friendly town of Hickory is situated in the Blue Ridge Mountains foothills and is well-known for its many hiking trails and Southern charm.
Hickory, North Carolina, has an average home price of $161,000, making it the nation's least expensive city to live in right now.
This friendly neighborhood east of Asheville and north of Charlotte is well-liked by seniors, but it is also attracting more young families as a result of its recent rise to fame as a Google and Apple technology cluster.
3. Pittsburgh, Pennsylvania
The wide landscapes of the Pittsburgh skyline reflect a developing metropolis with its origins in the steel sector and a focus set on further diversifying its labor force.
Young families find Pittsburgh's surroundings to be attractive due to its vibrant food scene and sizeable cultural district.
The typical housing cost in this area is about $222,000, which is less expensive than the median cost in other major U.S. cities, even if home prices have started to rise along with employment growth.
4. South Bend, Indiana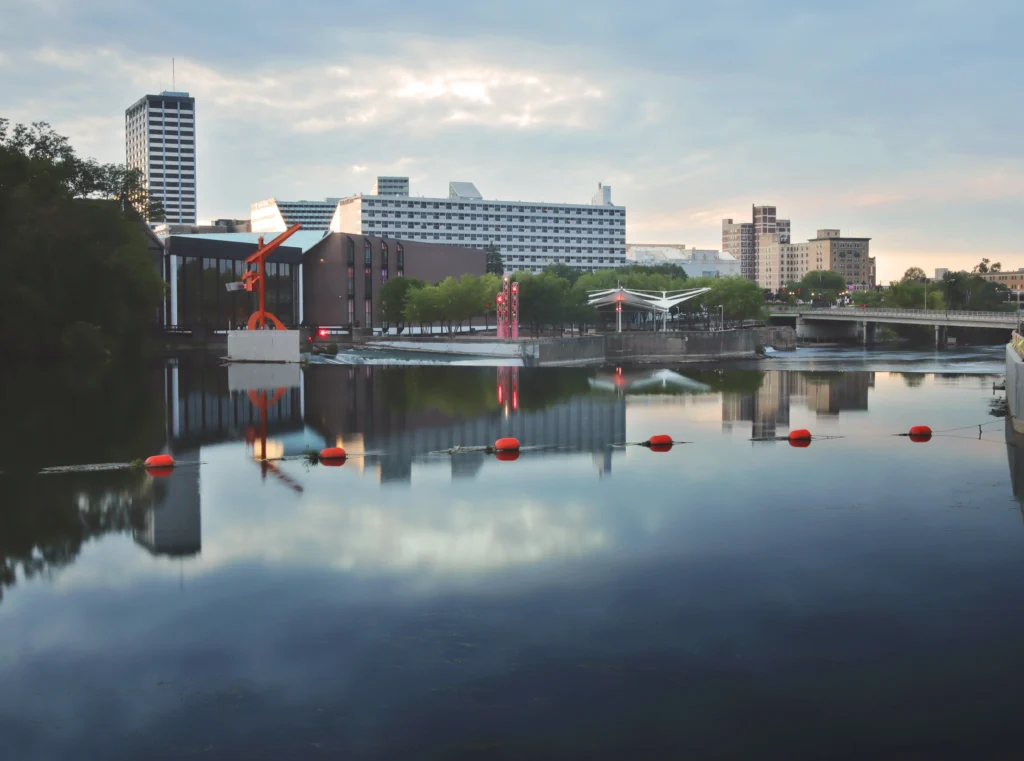 South Bend, particularly known as a college town with a variety of colleges nearby, is well recognized for enticing those looking for opportunities in the higher education industry.
Due to the cheap cost of living and reasonable median house cost (about $142,000), this also attracts singles, young families, and empty nesters who want to migrate.
Numerous hiking paths, a wide range of outdoor activities, plus South Bend's proximity to Lake Michigan make it an ideal destination for anybody who loves the outdoors.
5. Dallas-Fort Worth, Texas
The Dallas–Fort Worth metroplex, located in the center of North Texas, is made up of Dallas and Fort Worth.
Both Dallas, which has a vibrant downtown and a thriving arts district, and Fort Worth, which is known for its historic cattle drives in the Stockyards and spectacular cultural area, are distinctive towns that draw singles.
DFW maintains median housing rates (approximately $394,400) that are a reasonable value for its average family income while also providing tranquil walking paths, a buzzing nightlife, and modern dining choices.
6. Knoxville, Tennessee
Great Smoky Mountains National Park is very near to Knoxville, which provides both the tranquility and beauty of nature and the energy of its city.
Knoxville, which is primarily known as a college athletics town, is home to the University of Tennessee, which increases its appeal to young families.
Their common home price of $335,000 is significantly lower than that of many other American metropolitan regions of comparable size.
7. Louisville, Kentucky
Louisville, known for the Kentucky Derby, is a city full of culture and history. Louisville is situated along the Ohio River and boasts a vast, lush park system and walking paths.
They offer breathtaking views from its Waterfront Park and Big Four Pedestrian Bridge.
The city's low median home cost (approximately $163,000) and inexpensive cost of living, combined with its innovative culinary scene and upscale bourbon distillery experiences, are some of its key appeals.
8. Grand Rapids, Michigan
Grand Rapids, which is about an hour from the Lake Michigan coast, benefits from a low cost of living with a median home price of about $367,000.
Grand Rapids is the perfect destination for anyone looking for a low-cost, family-friendly atmosphere since it has a thriving arts and cultural scene and beautiful parks along the Grand River.
Especially in the fall when the colorful foliage graces the city's trees, this underappreciated city sparkles.
9. Seattle, WA
The Emerald City is not usually an item you might anticipate seeing on a list like this, considering that it's the headquarters of so many tech titans that are to blame for the collapse of the economy.
However, you don't have to win the Megamillions lottery to purchase a one-bedroom apartment, unlike that other West Coast tech powerhouse, Palo Alto. The median rent for a studio apartment in this city is $1,479 per month, with a 16.7% rent-to-income ratio.
In contrast, the rate in NYC is 43.9 percent. Seattle is home to several museums, recognizable structures, a ground-breaking musical heritage, outstanding dining options, and some of the nation's top coffee shops.
10. Brownsville, Texas
One of the least expensive areas to reside in Texas is Brownsville, which lies on the state's southernmost point.
In Brownsville, housing, utilities, and transportation are all reasonably priced compared to the national average.
Additionally, the city is renowned for its closeness to the Gulf of Mexico and pleasant temperature.
11. Pueblo, Colorado
Pueblo is a good alternative for individuals searching for inexpensive housing in the west even if it is not in the south.
The city boasts a cheap housing market, a flourishing arts and cultural sector, and a low cost of living.
Pueblo is close to a number of national parks and outdoor leisure places.
12. Wichita, Kansas
With a low cost of living and accessible housing, Wichita is among the most inexpensive cities in the Midwest.
In addition to having attractions like the Sedgwick County Zoo and the Wichita Art Museum, the city is well-known for its aviation sector.
Wichita is a fantastic area to live for folks who appreciate the great outdoors since it also has a diversified culinary scene and a ton of outdoor activity options.
Factors to Consider Before Choosing Where to Live
When deciding where to reside, the cost of living is an important consideration, but it is not the only one. Additionally, elements including employment prospects, lifestyle amenities, weather, and culture influence your choice. Some of these elements include:
1. Job Opportunities
When deciding where to reside, employment opportunities are an important factor.
To make sure that your professional goals match the chances offered in your potential location, it is crucial to conduct local employment market research.
Examine the availability of sectors that are pertinent to your industry and the quantity and variety of employment vacancies.
2. Cost of Living
When choosing a place to call home, the cost of living must be taken into account. It includes a range of costs, such as accommodation, food, utilities, travel, and more.
Making sure that your budget is in line with the cost of living in your potential location can help you make an educated selection.
You can ensure your financial stability and general quality of life by investigating and comprehending these prices in order to decide whether you can afford to live there comfortably.
3. Safety and Crime Rates
Safety and crime rates play a pivotal role in choosing a place to live.
It is crucial to research and assess the safety of your prospective location, including both general safety and specific types of crime.
This information helps you ensure that you and your family can live securely and peacefully in the area, providing peace of mind and a sense of well-being.
"Affordable" and "safe" don't necessarily go together when it comes to housing. We have produced a list of American cities and towns that have the finest balance of both. There are plenty of other cities that might be included.
Due to the size of the USA, there are many less expensive cities and towns that are just less well-known. Do thorough study before making any decisions if you are genuinely considering relocating and establishing anywhere.
However, if you look a little, you will discover that there are many safe and economical areas to reside in the USA.